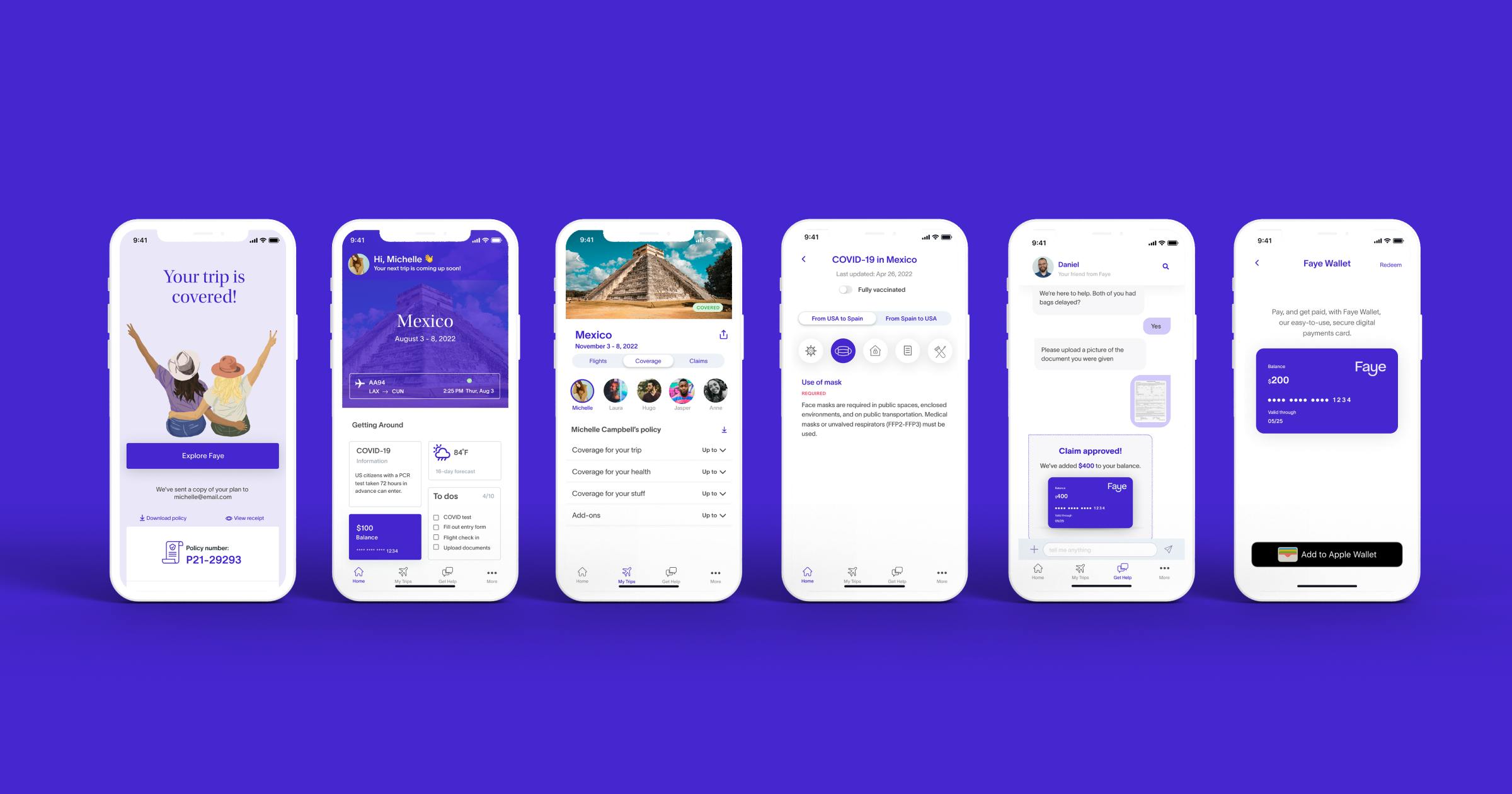 Why the Faye app will change the way you think about travel insurance
Back
At Faye, we're on a mission to shake up the traditional travel insurance industry. 

Built by avid travelers and insurance experts who believe that travel insurance can be more than a forgettable add-on but a must-have advantage, Faye helps keep you safe, informed and inspired to roam bravely. 

From buying a policy to settling claims, we've made getting covered 100% digital, meaning you can do it all in real-time with our easy-to-use app. 

What this means: gone are the days of searching for a policy that covers your entire trip, and the pile of paperwork that comes along with it.
What is the Faye app?
Our approach to tech-driven, paperless travel coverage and care. The Faye app enables you to purchase travel insurance, manage your trip, file claims, receive quick reimbursements and ask our Customer Experience Specialists for tips and assistance 24/7 while traveling.

How does it work?
Our app, available on iOS or Android, goes where you go and boasts cutting-edge technology. 
The best part about it: the app boasts a fully digital, no-nonsense claims filing process (upload your documents to the app and we'll aim to review everything in 48 hours). But check out all the specs and features that make the Faye app unique. 

The sign up
Our seamless onboarding allows you to easily add your travel and personal details in order to get covered for your trip in under 60 seconds.

In-app experience
Once you cover your first trip with Faye Travel Protection, you can access all that the app has to offer. This includes real-time notifications and alerts on flight delays, cancellations, gate changes and even tells you what carousel your bags are arriving at. 
From the Home screen you can:
Add your flight details, so we can update you about airport, flight and baggage details, changes and cancellations.


Access all COVID-19 entry requirements you need to know for your upcoming trip, including testing and mask requirements.


Check the weather forecast for your destination(s).


Access Faye Wallet, our secure digital payments card that gives you the ability to pay, and get paid. Here you can quickly get reimbursed for claims and use the digital wallet to pay rather than paying out of pocket for items you need most. And the best part: it works just like Apple Pay and Google Pay - you can access Faye Wallet directly from your phone's wallet. 


Download your policy and see a breakdown of your coverage. 


Add your flights, in case you missed it from the home screen.


File a claim by accessing our chat, uploading all documents digitally.
Why are we straying from traditional travel insurance?
The better question is why hasn't someone thought of this sooner? 

We started building Faye because we saw what's out there and knew it wasn't enough. We're also aware that there is an overwhelming majority of Americans who don't purchase travel insurance, though they're increasingly doing so amid COVID-19. Now is the time to disrupt the space and make the process more consumer-friendly, with care & coverage travelers can trust. 

Wherever you go, the Faye app is there too, from the little details to the big destinations, and every moment in between, so you can make the most of each adventure.