Spring break travel insurance
for your family vacay
Get covered in 60 seconds. 24/7 support. Quick reimbursements.
Check pricing


How it works
Get covered in 60 seconds
Answer a few simple questions and we'll provide you with a custom quote in under a minute.
Cover my trip
Travel worry-free with Faye
Chat with us 24/7 for assistance, emergency help, travel tips and more.
What's covered
Pretty much everything & anything related to your travel well-being
Your health
We'll cover emergency medical and evacuation expenses you have in-trip including ones related to COVID-19. Even if it means flying you home.
Your trip
Need to cancel your trip, start late, or end it early? We'll help smooth out the bumps along the way - like delays that result in you arriving late to your hotel.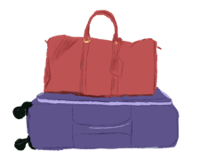 Your stuff
Luggage is delayed, lost or damaged? Wel'll help ya' out. Even with that favorite t-shirt of yours.
Our commitment to COVID-19 coverage pre-trip & in-trip
We treat COVID-19 like any other illness and can cover non-refundable cancellation costs if you become ill with COVID-19 before your trip starts, and emergency medical and trip delay expenses if you become ill with COVID-19 in-trip and need to stay longer.
Learn more
Emergency medical expenses
Quarantine accommodation
Trip extension costs
More of what's covered
Your trip
Trip cancellation
Your trip
Trip interruption
Your stuff
Baggage loss or delay
Your health
Medical evacuation
Your trip
Missed connection
Your trip
Trip inconveniences
Your health
Emergency medical expenses
Add on for your trip
Trip add on
Pet care
Add on for your trip
Trip add on
Cancel for any reason
Add on for your trip
Trip add on
Rental car care
Add on for your trip
Trip add on
Vacation rental damage
Add on for your trip
Trip add on
Adventure & extreme sports
See everything that's covered