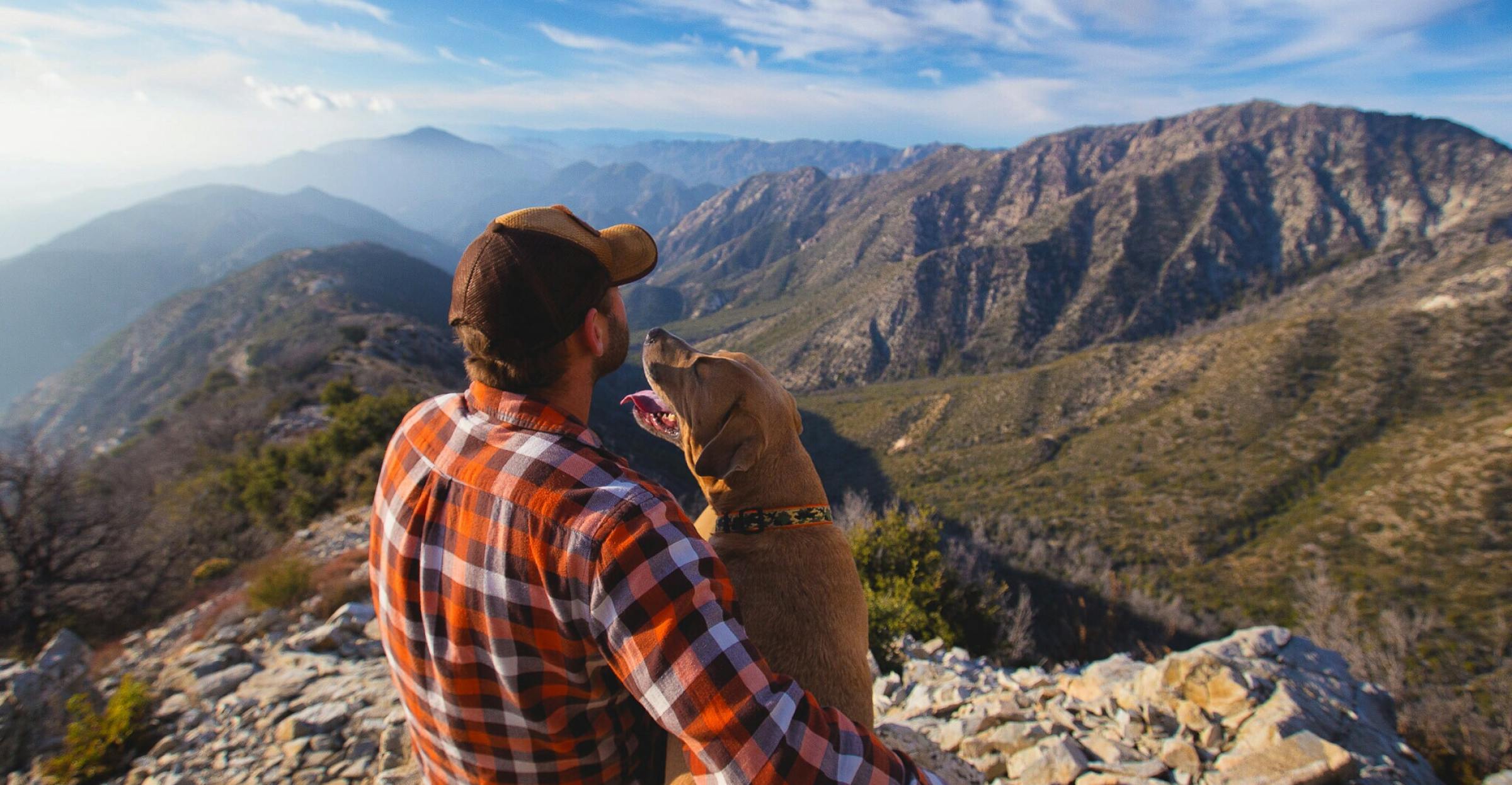 7 practical tips for pet-friendly travel 
Back
Traveling with your pet? 
Here's some useful best practices for bringing your four-legged friend along. Whether it's your fur baby's very first adventure or even if they're already seasoned jet setters, it's crucial to keep them calm, safe and healthy on vacation.

Our top tips for doing just that are:
Check transportation requirements
Find pet-friendly places to stay
Visit the vet & check vaccinations
Cozify your pet's carrier crates 
Pack a doggy-bag full of essentials
Pre-plan bathroom breaks
Protect your trip with travel insurance that boasts pet coverage
1. Check transportation requirements
There are many types of ways to travel - planes, trains and automobiles just to name a few. Depending on the mode you choose will affect what's needed for your pet to cope with the journey ahead.

Road trip time
If you're hitting the road with your pet, make sure to have a special seat belt or crate that's comfortable for your four-legged friend and be sure to check specific regulations regarding pets in the car, using a leash or muzzle in public places on route and for your destination. 

Also, some rental cars do not cover pets, so make sure you check the coverage and ask all necessary questions before booking. 

Flights
Airports and flight regulations are tricky to navigate for individuals. With pets, it can be even more of a challenge. That's why it's important to be prepared, like looking into whether your pet can travel with you in the cabin or needs to go into cargo. Research crate regulations plus consider ventilation and comfort of the carrier and identify vaccination and identification records needed. 

Consider taking the quickest and most direct flights with the best options for your pet. Nerdwallet notes Alaska Airlines, American Airlines and Hawaiian Airlines as the most pet friendly. Also, pets can sometimes have a weak stomach or anxiety before a flight, so it's best to feed them at least four hours before take-off, keep them hydrated with water and give them any medication well before.  

Buses, boats and more
Traveling by car and airplane are the most common modes of adventuring, but many people opt for buses, boats or even trains to get where they want to go. Each individual company has its own rules and restrictions for traveling with pets. For example, while island hopping in Greece, some boats require your pet to stay in a crate while others require a leash and muzzle. So it's best to check with individual companies before booking.

2. Find pet-friendly places to stay
According to Pet Jets Travel Trends 2020, 53% of travelers take holidays with their pets, so pet-friendly accommodation is a growing industry trend. Many accommodation sites, like Booking.com, Expedia and Airbnb offer pet-friendly filters, so you can find lodging that caters to you and your pet. There are also specialty sites like Bring Fido that help you find not only accommodation but restaurants, activities, events and services that are dog-friendly. 

3.  Visit the vet & check vaccinations
It's always a good idea to have your pet checked by your local veterinarian before hitting the road. That way you know they're at their best and it's safe for them to travel. 

Plan your visit after checking vaccination and identification requirements (in case for some reason it's not possible to bring your best furry friend along), and with enough time so if your pet needs a shot or two they'll be able to join you for the journey. Once you've got the thumbs up from the vet, make sure all your paperwork is in order to avoid any snafus.

4. Cozify your pet's carrier crates
Pack a travel pillow and blanket for the long ride to make your pet feel the most comfortable. And if you need to place your pet in a crate for a flight, make sure it has a few creature comforts, like blankets or towels. Even in the car or for other methods of transportation it's nice to be as relaxed and well-situated as possible.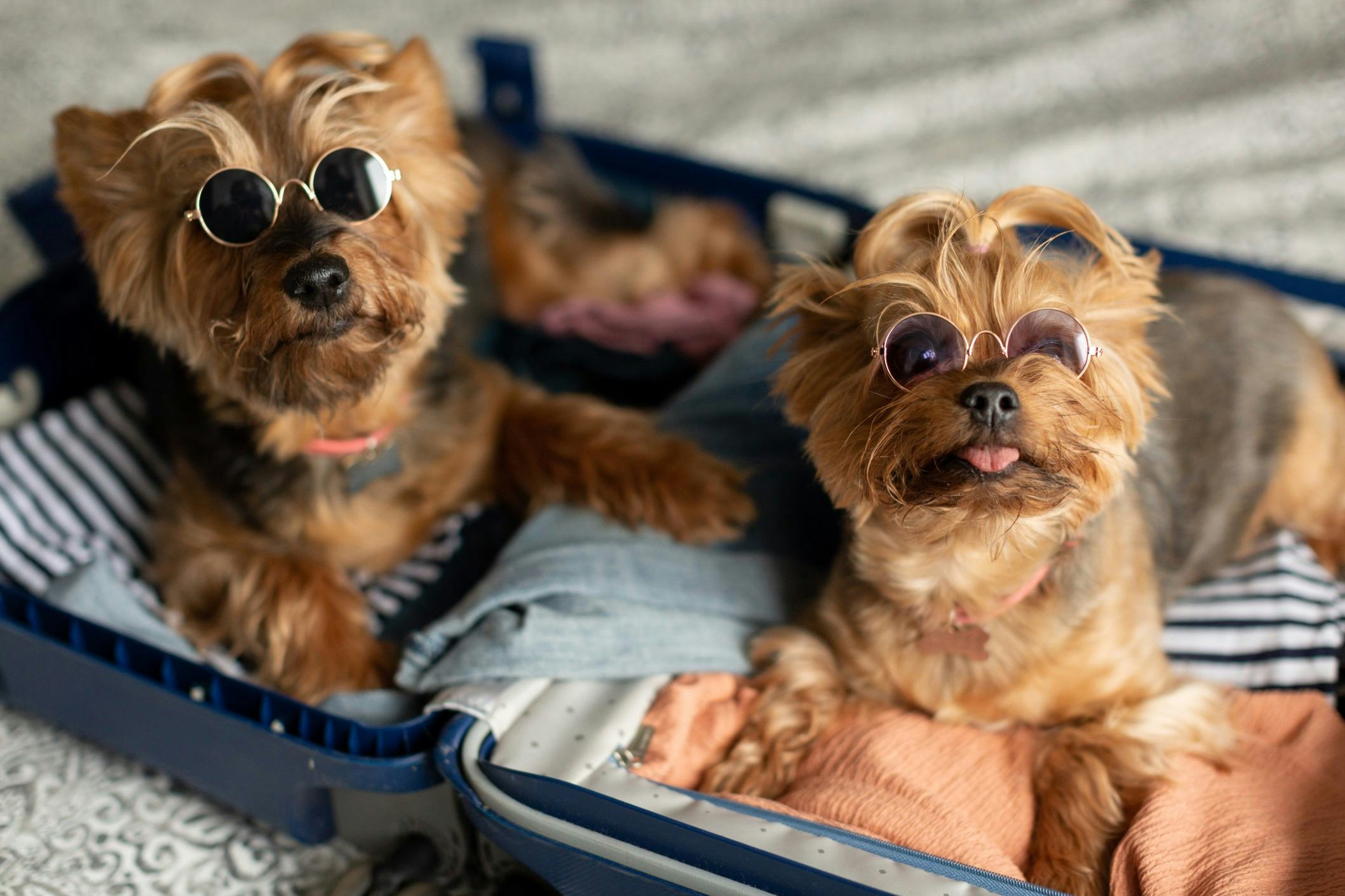 5. Pack a doggy-bag full of essentials
We all love treats, pets included. Make sure to make a doggy bag chock-full of not only goodies but other essentials. Some must-haves include:
Identification and vaccination documents
Water and food (plus bowls)
Medications
Leash, harness
Bathroom bags and pads
Crate or carrier 
Blanket, bed and/or seat cover 
Treats and toys 
A recent photo of your pet, in case they accidentally go missing
6. Pre-plan bathroom breaks
There is nothing worse than running through an airport and praying your pet doesn't have an accident in the middle of the terminal or even worse, in the backseat of your car. 

Planning where and when you can stop for a bathroom break for your pet means smooth sailing. Most big airports have designated pet relief areas as do highways and ferries. Do some research and save yourself from any unwanted bathroom faux pas and if you aren't sure, pack some pee pads to play it safe.

 7. Get travel insurance with pet coverage
Traveling with a pet can be stressful, but the right protection gives you the peace of mind that your pet has the coverage they need while on the road. Faye's Pet Care add-on covers up to $2.5K in veterinary expenses if you take your furry friend along (including pet sickness or injury), getting your pet back home safely if something happens to you, and/or $250 in kenneling costs if you left your pet at home and arrive back later than expected because of a delay. 

To find out more about our pet coverage and how to get your next adventure covered with Faye, check out our what's covered page.