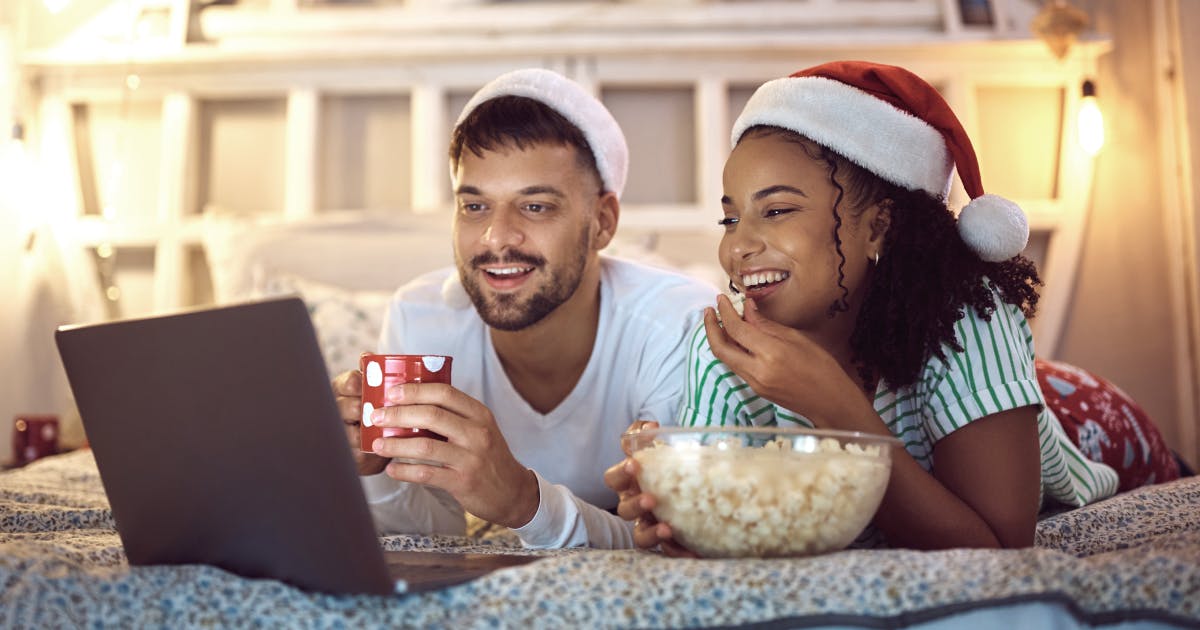 10 holiday movies to download before your flight 
Back
The holidays are here, meaning there's no better time to indulge in some seasonal classics and new festive movies! Whether you'll be spending this season traveling to celebrate with loved ones or just need some binge-worthy content to watch on a long flight, we've got you covered.  

1. Home Alone (the series) 
First up on our list is one of our family favorites, If you're into the classic Home Alone with Kevin McCallister (Macaulay Culkin) or even the more recent Home Alone movies, there is no better way to enjoy the holidays than by laughing it up with the newest Kevin McCallister character as he sets new comedic traps to escape intruders disturbing his holiday. 

2. How the Grinch Stole Christmas
With a place as magical as Whoville, where Christmas spirit is in full effect, you're sure to get those warm fuzzy holiday vibes with this Jim Carrey classic. Playing the Grinch, he sets an evil plan in place to steal Christmas from the Who's of Whoville. The heist doesn't go exactly as planned as one little Cindy Lou softens the Grinch's heart and ultimately shows him and the whole town the true meaning of Christmas.

3. Elf
In this classic family-friendly film, Will Ferrell, aka Buddy the Elf, ventures out from the North Pole in search of his father in the busiest city of them all: New York. Buddy's love of all things Christmas and mission in the real world leads to numerous fun-loving moments of spreading joy and Christmas cheer. 

4. Jingle All The Way
An oldie but a goodie, Jingle All The Way centers around how chaotic holiday shopping can get as Howard Langston (Arnold Schwarzenegger) goes to extreme measures to get his son Jamie the ultimate toy of the season, the Turboman action figure, in time for Christmas. This movie will surely give you a good laugh and remind you of the importance of not waiting until the last minute to get that holiday shopping done. 

5. The Santa Clause 
A ho-ho-holiday favorite featuring Tim Allen who plays Scott Calvin as he (literally) falls into the role of Santa, this trilogy follows him navigating the not-always-so-magical world of being saint Nick. His challenge: keeping the Christmas spirit alive around the world at a time when children have stopped believing in Santa and the magic of Christmas. Continue on the journey with Scott Calvin in the new Disney+ Original Series, where we watch him consider retiring to focus on his family life.

6. The Holiday
A classic winter love story starring Cameron Diaz, Kate Winslet, Jude Law, and Jack Black follows two women from opposite sides of the world going through a rough holiday season. They decide to swap homes for a few weeks to get away from their toxic relationships. Their lives change when they fall in love unexpectedly while abroad just in time for the New Year.

7. The Princess Switch
Watch Vaness Hudgens in this Netflix original as she plays both a small-town Chicago baker, Stacy, and Belgravia royalty, Lady Margeret. After Stacy's assistant secretly signs her up to participate in a bake-off held in Belgravia, she unexpectedly bumps into the prince's fiancé Lady Margaret. Instantly they realize how similar they look and begin learning about each other's completely opposite lifestyles. Stacy and Margeret switch places in hopes of discovering who they really are and the lives they want to live.

8. A Christmas Prince
Amber Moore, played by Rose Mclver, is an aspiring American journalist sent to Aldovia to write about a press conference given by the Prince of Aldovia himself, Prince Richard. Throughout this 3 part series, we uncover a different side of the prince as he falls for Amber. 

9. Falling for Christmas 
In the new Lindsay Lohan film Falling for Christmas, the young and spoiled daughter of a luxury ski resort owner ventures on a getaway with her social media influencer boyfriend. Following a mountain-top tumble where Sierra (Lindsay Lohan) loses her memory, the film follows her as she tries to rediscover who she is and her purpose. All while helping others and saving a family lodge in the process.

10. A Christmas Miracle for Daisy
In this Netflix holiday story, Daisy's only wish is for her father to find love and have a mother figure for Christmas. Simple enough, right? Along comes interior designer Whitney who we quickly find out is Daisy's father's ex-fiance, ultimately leading to the Christmas miracle needed to make Daisy's wish come true and allow them to have the family they all longed for this holiday season. 

Getting in the holiday spirit
No matter where you find yourself this holiday season - from long flights to packed car rides - download these movies for some extra merry and bright spirit. And to keep those travel troubles away, check out Faye Travel Insurance.